WHAT IS MORPHEUS8?
Morpheus8 is a safe and effective minimally invasive modular RF fractional solution for full-body subdermal adipose remodeling.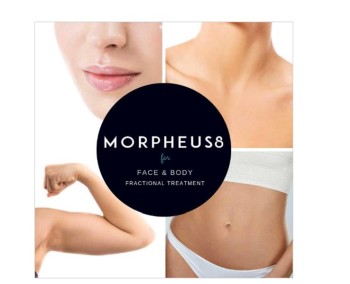 KEY BENEFITS:
Morpheus8 delivers the deepest fractional treatments available, penetrating subdermal tissue up to 8mm (7mm + 1mm thermal profile).

Dual Handpieces allow for increased treatment functionality: Morpheus8 for smaller treatment areas and Morpheus8 Body for larger and deeper tissue treatments.

Four fractional tips with different microneedle configurations (Prime 12 pin, Resurfacing 24 pin, Morpheus8 24 pin, and Body 40 pin) deliver clinically proven F energy to multiple treatment depths (0.5mm - 7mm).

Equipped with Burst mode RF technology, Morpheus8 Body automatically deploys bipolar RF energy to multi-level treatment depths (0.5mm – 7mm). The ability to target tissue sequentially at three levels, in millisecond intervals, allows for a significant reduction in treatment times, minimizes skin injury increases treatment uniformity, and enables customized full-body fractional procedures.

Safe on skin types up to and including VI with little risk of post-inflammatory hyperpigmentation (PIH) which is common with other resurfacing methods.
DOES MORPHEUS8 HURT?
Morpheus8 uses needles but it's not unusually painful. Any discomfort that is felt during the treatment is often very tolerable. We will also apply a numbing cream to ensure optimal comfort during your session. You can also get back to your usual routine immediately after your treatment and apply makeup the next day.
HOW MANY TREATMENTS WILL I NEED?
While a single treatment can provide stunning results, usually recommends for multiple sessions to achieve the best outcomes. This will vary by patient and will be determined based on your cosmetic goals. On average, we suggest 3 – 4 treatments spaced 3 – 5 weeks apart.
HOW LONG DO RESULTS LAST?
The results from Morpheus8 are long-lasting. Since RF technology helps boost collagen production over time, results will continue to improve up to three months after your initial session. It's also safe and very common among our patients to incorporate other aesthetic treatments to complement their Morpheus8 results. During your consult, be sure to ask about the other treatments we offer for skin rejuvenation.
SCHEDULE YOUR MORPHEUS8 TREATMENT TODAY
Do you have loose skin, fine facial wrinkles, surgical scarring, or other skin imperfections you'd like to address? Are you searching for a nonsurgical solution for these issues? If you answered yes to both questions, then Morpheus8 might be ideal for you. At AWC Wellness and Aesthetics in Lafayette, CO our providers can answer all your questions and discuss your aesthetic goals. Thanks to the innovative Morpheus8 technology, we can build a custom treatment plan based on your needs. Reach out to our office today to schedule a consultation with our expert team at 303-439-8910.